Harmony
,
Indiscriminate
thoughts on November 21st, 2005 by escargot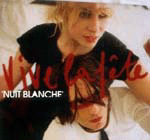 … as in, wanting to close the eyes and fall asleep.
This album makes me dance, move my shoulders, scream in silence and wonder about a Malcolm McDowell's quote: "The best thing I did was abuse myself when younger – I dabbled in everything, cocaine, booze, women – because now I don't have to do it anymore." I kind of lack all of them. I drank a lot, yes, but always in a glass, taking care of what happened… never dabbled. Maybe that's the difference of the so called generations. Today the youth is not meant to be young, it's not meant to… oh wait, for a couple of seconds I forgot the party-masses. Pardon.
Anyway, maybe I should forget my whole reality, break doors, punch windows and the great whore will suckle me until I'm fat and happy and can suckle no more.
But as I wrote that sentence I felt my dinner coming up my throat and a knot of disgust in my stomach. I can't.
Shower calls, and then the pleasant bed will hold me.
Try to get the album, is great, is music I wouldn't expect to hear from me. It's delicious, it's the gorgeous fat kid of the bacchanal whore.
Nighty night.